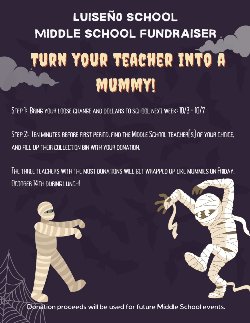 What

Middle school fundraiser

When

10/3/2022

Where

classrooms
Step 1: Bring your loose change and dollars to school 10/3 - 10/7

Step 2: Ten minutes before first period, find the Middle School Teacher(s) of your choice , and fill up their collection jar with your donation.

The three teachers with the most donations will get wrapped up like mummies on Friday 10/14 during lunch!!

Donation proceeds will be used for future Middle School events.