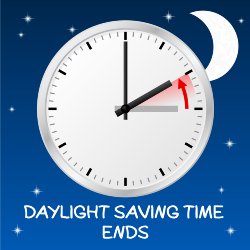 What

Daylight Saving Time ends

When

11/5/2017, 2:00 AM

Where

Set clocks back one hour
Daylight Saving Time ends at 2 a.m. on Sunday, November 5.
On Saturday, before bedtime, remember to set your clocks back one hour. According to the U.S. Fire Administration, this is also a good time to check the batteries in your household smoke detector and fire alarm. batteries should be replaced at least once per year.
El domingo 5 de noviembre se atrasan los relojes una hora.
Recuerden de retrasar sus relojes una hora esta noche antes de dormir. Según la administración de incendio de EEUU, esta es una buena oportunidad para revisar las pilas en sus detectores de humo y alarmas de incendio. Cambie las pilas por lo menos una vez al año.