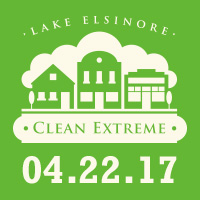 What

Clean Extreme! Collier Avenue Community Cleanup Event

When

4/22/2017, 7:00 AM

–

1:00 PM

Where

Collier Avenue, Lake Elsinore-a one mile project corridor bounded by Riverside Drive and Nichols Road.
Save the date! Volunteers welcome. Please sign up using the City of Lake Elsinore's online registration link below. More information to be posted as event nears. Volunteers must be registered to participate (including minors with signed parental permissions and waiver forms).

Background
Clean Extreme was begun in 2010 as a joint idea between LEUSD and the City of Lake Elsinore. Since then, several annual beautification projects have occurred on Main Street, Graham Avenue, and Grand Avenue, all "city gateway" locations. This year's focus is Collier Avenue, a one mile project corridor opposite the Lake Elsinore Outlets. Volunteer staging will be in the Park and Ride lot near Nichols Road, on the north end of Lake Elsinore Outlets on Collier Avenue. Activities include painting a sound wall with urban art features to highlight the Temescal Wash and its riparian habitat, which is protected by the sound wall.